Wharf ladder
PTR Holland ® Group are professionals when it comes to producing and selling ladders for marine and offshore usage, we produce several types of ladders including wharf ladders, pilot ladders and accommodation ladders. We've been building such ladders for over thirty years, we are experts in the field! As well as wharf ladders, pilot ladders, and accommodation ladders we also sell many other products for the maritime industries. Our products include gangway nets, pontoons, anti-piracy products and safety and protection products. PTR Holland ® Group for Protection of life and property at Sea!
Wharf Ladder
Our aluminium alloy wharf ladders have the following specifications:
Made from sea water resistant aluminium of the finest quality.
Available in several standard sizes up to 20 m.
Anti-slip floor and treads made of heavy duty aluminium.
Withstands up to 225 kg of pressure per square metre.
Special dimensions can be made, when requested.
Certified products.
Contact
If you're interested in our wharf ladders or any of our other products please contact us via our contact form or send us an e-mail at info@ptrholland.com. You can also phone us on (+31)10 – 714 49 45.
Related products
More products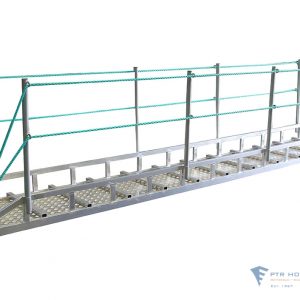 Wharf ladders are made of the finest quality seawater resistant aluminium and...