Offshore gangway
PTR Holland ® Group produces and sells many products for the maritime industries such as offshore gangways. We've been producing ladders for embarkation and pilot ladders for more than thirty years. As well as offshore gangways and several types of ladders we also sell many other products including safety and protection products, anti-piracy products and nets. PTR Holland ® Group for Protection of life and property at Sea! Have a look at our new website, if your product cannot be found please do not hesitate to contact us.
Offshore Gangway
Our offshore gangways have the following features:
Constructed with aluminium
Folding handrails make for easy stowage
Gunwale clips to secure the unit to the ship
A rectangular punched grating to ensure a non-slip surface
Contact
If you're interested in our offshore gangway or any of our other products please contact us using our contact form or send us an e-mail at info@ptrholland.com. You can also phone us on (+31)10 – 714 49 45.
Related products
More products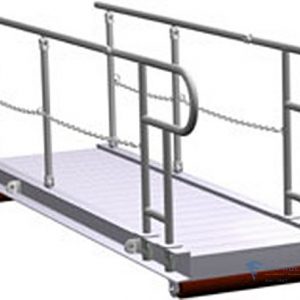 Our gangways feature aluminum construction and folding handrails for stowage...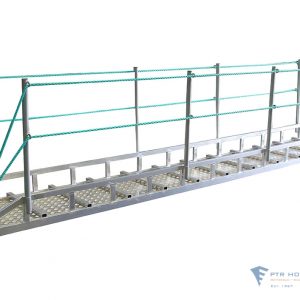 Wharf ladders are made of the finest quality seawater resistant aluminium and...