Aluminium Gangways
PTR Holland ® Group sells around 12,000 different naval products including aluminium gangways. With more than thirty years of experience producing embarkation rope ladders, we are your go to guys for products for the marine and offshore industry. As well as aluminium gangways and embarkation ladders we also have gangway nets, anti piracy products, sealing tapes, fall preventer devices, aluminium gangways and much more available for sale. PTR Holland ® Group for Protection of life and property at Sea!
Aluminium Gangways
Our aluminium gangways have the following features:
Constructed with aluminium
Handrails that fold for ease during stowage
Secured to the ship with gunwale clips
Durable non-slip surface due to rectangular punched grating
Contact
If you're interested in our aluminium gangways or any of our other products please contact us using our contact form or by sending us an e-mail at info@ptrholland.com. You could also phone us on (+31)10 – 714 49 45.
Related products
More products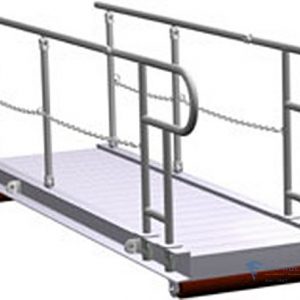 Our gangways feature aluminum construction and folding handrails for stowage...