Rope ladder
A rope ladder, embarkation or otherwise, are probably the product PTR Holland is most well known for producing. This was among the first of our products we produced ever since we were established thirty years ago, and quickly branched out into other products like pilot ladders and other marine safety supplies. We specialize in producing that what you need to ensure safety of life and property at sea, be it with something as simple as a rope ladder or complexly built machines that can save the lives of everyone at sea.
A rope ladder to your exact wishes
PTR Holland produces only high value products, a fact you can be assured of by checking all the certifications our products receive and information on the required qualifications. Our rope ladder for instance is very durable. PTR Holland, on top of that top quality producing, offers a customizable option of letting you, our customer, dictate the exact length of a ladder so that you will never be stuck again with a ladder that is either much too long or maybe just too short. Instead you will have a rope the perfect length for your vessel that will last and you will not be forced to just buy a standard sized one.
Contact us now!
If your interest in our rope ladder or maybe any of the other products is sparked, wait no longer and get into contact with PTR Holland now or visit our online webshop in order to get a good look at the other safety supplies we produce. Want to know more? Please call us on (+31)10 – 714 49 45 for more information.
Related products
More products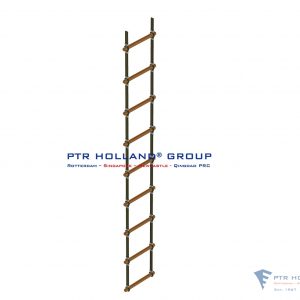 Available in hardwood and aluminium. Ideal for general purpose use. Available...