Safety tripod
A safety tripod of PTR Holland is ideal for confined space entry and emergency rescues. We are all about protecting life and property at sea, and to ensure your crew's safety aboard the vessel. A safety tripod cannot be missed in order to do this properly. PTR Holland has been in the marine and offshore industries for over 30 years now. This enables us to not only learn over time and improve our products to ensure their high value and have them properly certified, but also left us with the knowledge on how to satisfy our clients and make sure a product is fitted to them precisely
Safety tripods and others
PTR Holland produces many other products beside a safety tripod, including but not limited to embarkation ladders, pilot ladders and many other marine safety supplies. A tripod is the failsafe way to transport a person that has been injured, into or off a vessel and taking every precaution to make sure the injured are transported safely. At sea, everything is uncertain, and a grave accident hides in a small corner. We produce the products you need to ensure not only your own safety but that of your crew and other people at sea.
Interested?
Do you want to know more about a safety tripod or other products that PTR Holland has to offer in order to make your crew and cargo journey safely across the seas? Get into contact now or take a look around our online shop! Call us at (+31)10 – 714 49 45.
Related products
More products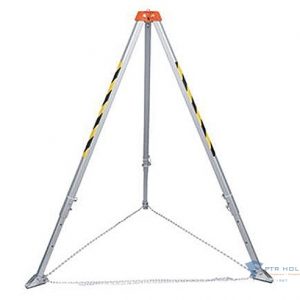 Our Safety Tripod is a component of personal protective equipment against fal...